Yeah, I know I should post more frequently....but after checking and replying to emails and browsing through my facebook and ebay groups, I always realize that I should be doing something productive and really just want to get off the computer.
Heck just the other day I wasted a few hours browsing through craigslist....mostly for items for our house since we are still in the process of finishing it...yes still. It's been about 5 years, but we now have 3 bedrooms and upstairs, new bathroom, a patio and real green stuff growing in the yard. Well, the new bathroom isn't done but it serves a really great use of being the tool storage area at the moment. Even found a free vanity cabinet that hubby picked up for me...just waiting to find that free or really cheap free standing tub and shower unit....I can wait if it means I don't have to buy one for the stupid amount of money the stores (and even the building salvage yards) are wanting! We can use the little bathroom....which I spent the last week and half making look better..
I plastered and painted and put up some cheap tile board stuff to cover the ugliness, bought a new toilet that's proved itself already that it will save us about $10 a month and new accessories for the towels and toilet paper. Still need to finish the shower and get a new curtain, but you see that I am here not working on that, and even if I wasn't I'd be sewing to finish up the orders I should be working on...lol
I have time ;) and there's always tomorrow...except for the fact it's going to be a beautiful day tomorrow and super warm and I will most likely spend the day outside until the sun goes behind the trees and shade takes over the yard.
If I happen to be inside that only means we are either doing schoolwork or I'm feeding the wolf that hangs around, or feeding the crows that come by and eat what the wolf (we named him Kiba, off of Wolf's Rain) left behind. They won't come in the yard if we are outside....too skiddish unfortunately.
Finally managed to repaint the dining room wall (again) and I do believe I will keep the color this time around....it was only the 4th time painting these walls!!....and can you guess what caused me to do it....fabric...yes fabric.....see I have this stool, it was ugly dark green and had a torn leather top, so in an effort to make it happy I made a new cushion for it with some happy bright fabric that complimented my bright red kitchen cabinets! and painted the legs...well, I liked it so I painted the dining room that color...and my plant shelf that is in my kitchen...kinda really works together, I like it....
Here's a pic of my happy stool...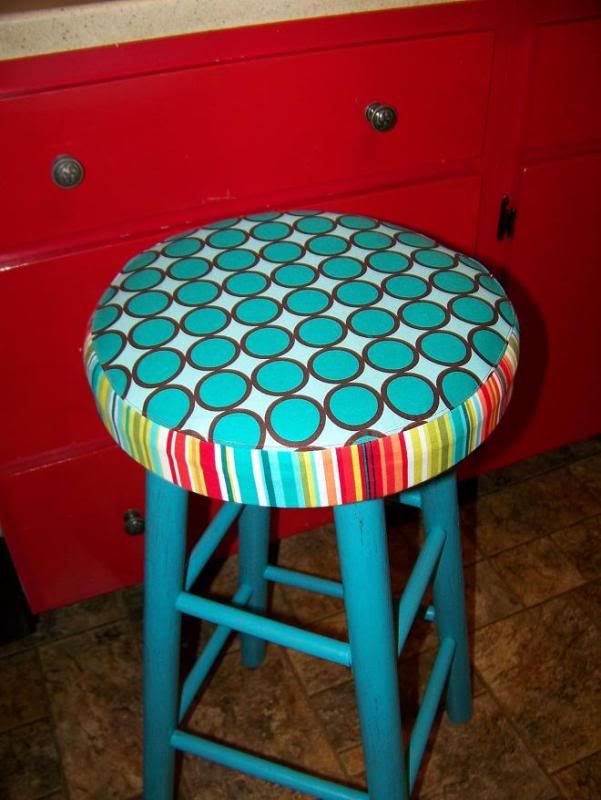 Okay so it is (was) really my Mom's stool, but so is the tv technically and we had it for about 12 years soooo...you know it goes :)
Still need to finish the dining room with the trim and baseboards (not to mention we are tearing out the whole front wall!!! and replacing whats there with French Doors and new windows) and the fact that this is a homeschooling home and there are school books and papers and folders all over the dining room table, lol...I'm too embarrassed to share a pic...it'll at least have to wait till I clean it...maybe next week, lol.

I wrote some in my book too, so I'm almost done with chapter 10 Whoo Hoo!!...just 20 more chapters to go :)

I have some things listed on etsy and ebay so feel free to click the links on the right to see what I have available. I'm going to run a sale on Mother's Day on etsy, and then ending all the custom listings after that, so be sure to grab what you want then, if you don't see it email me!! landofjas@yahoo.com
Need to clear out the old designs as I'm going on vacation in June and when July comes around I will be working on Fall, Back to School, Halloween, and Holiday items!!
Here's the new Toy Story set that I have listed now. (Cheaper on etsy mind you, ebay takes out 12 percent plus listing fees, that's why things cost more there!)




So anyway, other than all that rambling mess, I'm glad to say that our wood we ordered from the sawmill is finished...which means we can do some destruction soon!! Yay, I love tearing things down so I can build them like I want them :) !!! A new ceiling, a new porch, real wood on the stairs, and finally some molding/trim upstairs...this house will get finished one day, the only problem is once I get my hands on 50 or more acres I'll be outta here in a heartbeat! I'm so gonna dig up all my plants and take them with me though, lol. They're my babies and hopefully by that time Kiba will not be so terribly shy around us and he can come with us to live in the middle of nowhere and watch us build another domain! I'm thinking castle...or if we happen to be poor, I'll take a tree house, so long as the mailman can deliver my fabric, it's all good :)
Now seriously, I should go sew, I've only got 7 outfits to make before Monday, 6 and a half really, one's almost finished....but crap, look at that, it's 11:30...I think I will just finish that set, then go write some more in my book so I can get that scene out of my head....yeah it's a movie really, but I'm not proficient enough to create a feature film, so I'm just going to write it and let someone read it and hopefully make a movie for me so I can watch it. As long as it is better than those crappy Syfy movies, it'll be great...and no ugly actors/actresses... and him...he can be it ;)